Frequently Asked Questions
Precision Badges have the latest manufacturing technologies that enable us to produce the widest variety of quality badge types on the market today. We're the New Zealand owned and operated company to trust when you want quality badge products and friendly, helpful service.
Is there a minimum order size?
In most cases no. Depending on your requirements we can manufacture from 1 to 100,000 items. For new
school title bar
titles we do have a minimum initial order size of 25. We currently have over 500 titles available. Once this new title bar has been added to our list you can order fewer than 25 at any time.
Button badges
and
Embroidered badges
also have a minimum order size of 50.
What materials are your metal badges made of?
Most of our badges are made from either brass or copper. Depending upon application we occasionally cast badges from a casting alloy prior to finishing in your choice of plating.
What finishes are available?
Gold, Silver, Nickel, Copper, Black Nickel, Antique, Matt or Satin and Full Colour Plastic Insert Types -all with or without an epoxy dome coating.
What's the difference between a title bar, a crested name bar, a crested title bar and a lapel badge?
A title bar
deals specifically with schools or clubs with badges having simple titles such as secretary, house leader, president and librarian. We have over 500 title bars available for immediate delivery.
A crested name bar
is a badge incorporating your school or company logo into a series of individual badges where any text field can be different on any badge e.g name, title and/or year.
A crested title bar
is a badge incorporating your school or company logo/graphic into the badge along with a standardised title or caption. Crested title bar badges are all manufactured to the one customer defined specification, hence they are sometimes more cost effective than a crested name bar.
A lapel badge
usually serves as a corporate, club or school identifier. They can be made in any shape, colour or design
Is a deposit required prior to beginning manufacture?
No deposit is required for schools, government departments (including local government) and established customers. For all other customers requiring non-stock item badges we require a 30% deposit payable at the time of confirming your order.
How long does it take for a typical order to be manufactured?
Once we've received your approval for the final design and layout of the badge, you can expect delivery of your order within 4-5 weeks, often sooner. If we already have your requested badge in stock it can be sent to you immediately -we have over 500 individually named title bars quickly at hand, so
just ask us
. There's a good chance we already have what you're looking for in stock.
Can you make us a sample?
Usually samples aren't required because this tends to delay manufacturing and delivery times. We also guarantee to re make your badges if you're unhappy with the finished product. We are happy to provide free samples of other badges we've made that may closely reflect the badge type or design that you've requested. For customers requiring the manufacture of a single sample, we ask for an immediate payment of $150 +GST. This charge is then deducted from the total of your account once you've placed the order for production to go ahead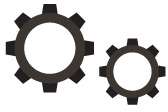 Precision Badges have the latest manufacturing technologies enabling us to produce the widest variety of quality badge types on the market today. We're an independently owned and operated NZ company that you can trust. We've complied a list of frequently asked questions relating to getting your own badges made. read more
Lists & Catalogues

Please download and view our school title bars list or browse one of our print catalogues (all are pdf documents) to see for yourself the quality, workmanship and capabilities of Precision Badges.
School Title Bar List
Bowls Club Title Bar List
School Badge Brochure
Clubs Badge Brochure
Corporate Badges Brochure
Lanyards Brochure
Request a Quote
Quote Form
Contact Us
Request a quote, email us with your questions or give us a call - We have offices in Auckland, Wellington and Christchurch.